Test Services
 Autoliv handles every aspect of testing - from the test method development, pre-test preparations, post-test analysis, computer simulations to crash testing, and safety improvement recommendations.
Computer Simulations
Computer simulations are performed for a variety of test and product configurations. Developed through years of research and development, computer simulations can be an economical and time-efficient alternative to physical testing. Modeling also provides the capability to expand product or system evaluations to include test conditions and scenarios for which physical testing is not possible or practical.
Component Testing
Component testing is a cost-effective and efficient way of testing specific design proposals and materials. Autoliv test centers offer an extensive range of test capabilities for the testing of specific components, such as seatbelt webbing, load brackets, airbag fabrics, and metal or plastic parts.
Product Testing
The performance of a complete restraint product can be tested in our seatbelt or airbag laboratories. Seatbelt systems are both statistically and dynamically tested,while airbag systems are deployment-tested under various temperatures (with or without dynamic loading on the bag). Computer simulation models are then validated based on the product testing results.
Sub-system Sled Testing
During the product development phase, system level performance is evaluated using critical components of the full system tested dynamically on a sled. Instead of destroying a complete car for each test, the stripped vehicle body is reinforced, placed on a sled, fitted with the sub-system components, and accelerated in accordance with that vehicle's crash test characteristics. The recorded crash pulse for the simulated car can be accurately repeated, thus tightly controlling the test-to-test variables. By replacing the tested interior components, the reinforced vehicle body can be used repeatedly for a number of car-like crashes with a limited cost and time impact.
Vehicle Crash Testing
In a vehicle crash test, impacts can be performed up to a velocity of 100 km/h. Autoliv can conduct a number of different test modes depending on the specific requirements of the car manufacturer or governmental regulations. Common test modes include flat barrier impact, angled barrier impact, offset barrier impact, pole barrier front or side impact, under ride barrier impact, mobile barrier, side or rear impact, car to car, and roll-over tests. Several Autoliv sites also perform crash tests on EV and HEV models. Sled and full vehicle crash tests are supervised from a control room using a fully computerized crash control system – and customers can view the crash testing from a well-equipped observation room.
Testing - All over the world
Autoliv maintains extensive state-of-the-art testing facilities, including full scale crash testing. We are strategically located globally to support the product development and validation.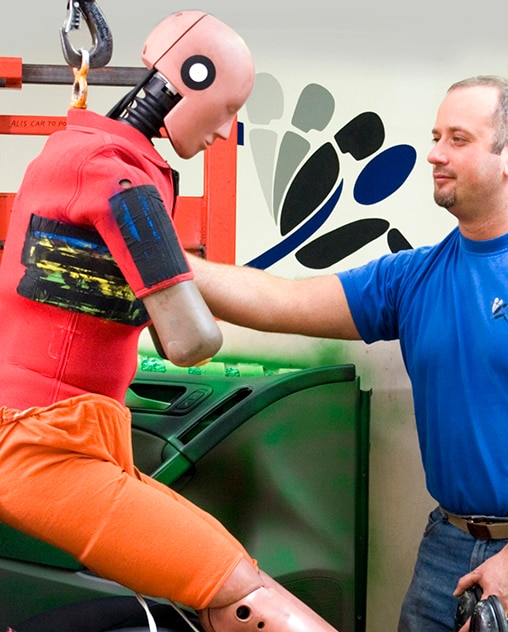 | Country | Location | Full Scale Crash Lab | Acceleration Sled | Deceleration Sled | Bungee Sled | Brake Test Track |
| --- | --- | --- | --- | --- | --- | --- |
| USA | Ogden, Utah | | | | x | |
| USA | Detroit, Mich. | | xxx | | | |
| Mexico | Lerma | | | | x | |
| Brazil | Sao Paulo | | | | x | |
| France | Gournay | x | x | x | x | |
| Germany | Elmshorn | x | | x | x | |
| Germany | Dachau | x | | xx | | |
| Sweden | Vårgårda | x | x | x | x | |
| Romania | Brasov | | | x | x | |
| Hungary | Sopronkövesd | | | | x | |
| India | Bangalore | | x | | x | |
| Thailand | Chunburi | | | | x | |
| China | Shanghai | x | x | | x | |
| South Korea | Seoul | | xx | | xx | |
| Japan | Tsukuba | | x | | | |