Seatbelts
Seatbelts are designed to secure the occupants of a vehicle against harmful movement during a collision or a sudden stop. Seatbelts are considered the primary restraint system, because of their vital role in occupant safety, and can reduce the overall risk of serious injuries.
Top lifesaving device
Working together with airbags in a collision, the seatbelt provides occupants with an added sense of safety and can guard from potential further injury. Autoliv seatbelt systems work together to save more lives: retractors, buckles, load limiters, pretensioners, pre-pretensioners, hardware and active seatbelts. Autoliv encourages occupants to buckle up, especially those seated in rear seats, as an unbuckled passenger can potentially do more harm to those inside.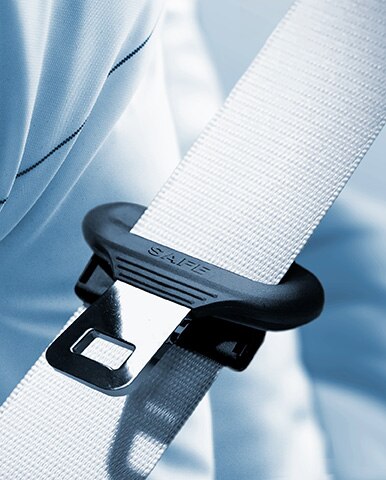 As an occupant reaches for the seatbelt to initiate the buckling-up process, the retractor releases webbing to provide comfort to the occupant. The retractor's sensors can tighten up or release webbing in the event of a collision.