Our Priorities
Employee health & safety and inclusion are the priorities of our employee-related sustainability agenda. We also work to continually develop our employees, which is essential in a highly competitive and rapidly changing environment.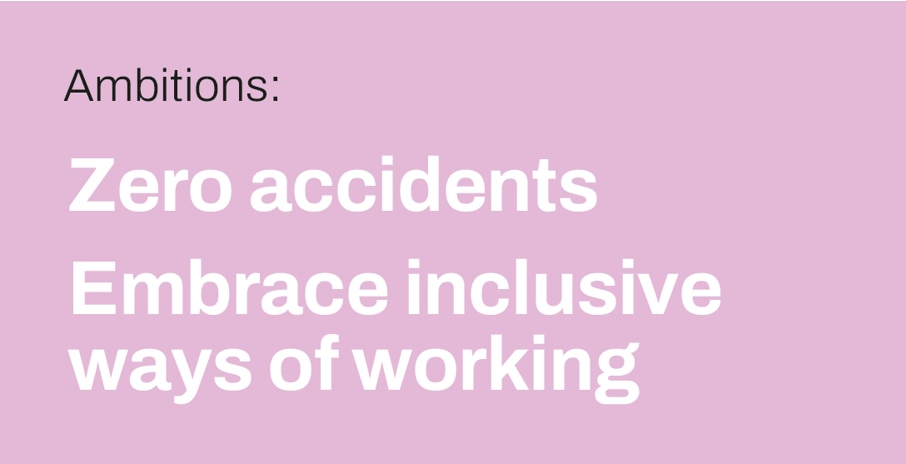 Health & Safety
Our Policy and Commitment
As a leading producer of automotive safety components, Autoliv is committed to the development and manufacturing of quality automotive safety systems while providing safe working conditions for our employees and contractors. In both the marketplace and workplace, health and safety is more than an element of our business – it is our business.
We believe that people are our most important resource, and together, we will work diligently to identify and eliminate potential hazards and risk, improve our health and safety management system and strengthen our health and safety culture.
We believe that work related injuries and illnesses are preventable and will continually strive to eliminate all workplace accidents, protect human health and company property, while maintaining compliance with all applicable regulatory requirements.
We believe that the responsibility for Health and Safety starts from senior management. All employees at all levels share the responsibility to identify and eliminate unsafe conditions and behaviors, and to speak out.
Health & Safety Management
Each Autoliv facility is required to implement Autoliv's health and safety management system (HSMS). System requirements are defined in Autoliv's internal health and safety management system standard, which is aligned with the ISO 45001 requirements. The HSMS is supported throughout the organization by leadership teams who encourage operators and visitors to speak up about health and safety concerns and ideas and take responsibility for their actions. The implementation of the system is monitored through internal and external audits.
 
Diversity and Inclusion
Inclusive ways of working are an asset and a fundamental part of the Autoliv Key Behaviors that were launched during the year. We believe that everyone should be respected and treated fairly, and we are committed to providing an inclusive and diverse workplace where everyone can be themselves, deliver results and bring their authentic selves to work. Including a multitude of perspectives is an integral part of successful decision-making in all parts of the organization and helps drive innovation and create long-term sustainable shareholder value in a rapidly changing industry.